Vette Explorer Home



Making of a 700Hp 1987 Corvette




Here it run!


(it gets 24+ mpg too)



Click here for the latest news

It all started July 5, 1999, upon return from vacation. My '87 Corvette was in the shop getting a new camshaft. Unknown to myself, my wife had the car moved to a new location to replace the original, ragged interior with a new stock interior. Bad things happened on the way back. The engine broke a valve, which, of course, had other bad effects. When we returned, I got a phone call bearing the bad news. Rather than get into the story of why the valve broke, who was driving it, and who is not man enough to admit they hosed a perfectly good engine upon major over-rev (sense a little bitterness here?), I'd rather focus on what happened next.

I had a choice to make. Either rebuild the current engine, which itself was no slouch: a 430hp/455lb-ft 383 which had carried me to many mid 12's in the quarter at 2500ft of elevation; or upgrade to what I really wanted: a fire breathing/take no prisoners/tire roasting/whiplash machine. I estimated it would take about $4,000 to repair the damage. Both heads needed work and 2 pistons needed replaced. The block, rods, and crank were in nearly perfect condition, even though they'd had literally hundreds of quarter mile runs and 25,000 road miles. I got a quote from TPIS in Chaska, MN on a replacement 406 small block. They had built my original 383 and it had performed wonderfully. I still really wanted more. The thought kept nagging me. I wanted it all - as much as I could put into a pump gas running small block and still drive it to work on a semi-regular basis. I did some checking into supercharging from Carroll Supercharging, Vortec, and a couple others. I basically pushed TPIS to the point that I got Myron (aka "Head Honcho") Cotrell on the phone to talk business. We decided on a blown bowtie 400 block based engine. We originally discussed a 427, but Myron wanted to keep a couple of bores left in the engine, as he is wise enough to protect such a large investment. We discussed a target of 650-700 horsepower, and he felt confident he could make it happen. I let him go with that power range as a target to do what he does best: built reliable, streetable, bigtime horsepower.

At this time, I realized more would have to be done to the car to withstand the power reliably, protect myself physically, and meet NHRA rules for drag racing. I hooked up with Rich Kimble of Kimble Motorsports (Boise, Idaho) to fab a rollbar. This was not going to be an easy task, as the car is a convertible, and I wanted something aesthetically non-obtrusive, and keep the top fully functional. To meet NHRA rules, a simple hoop with a couple of braces wouldn't do. Rich set off thinking about this, and came up with some good ideas, as well as ideas for other aspects of the car as well. We also decided to install a full racing seat with 5 point harness with cam lock.

Another issue that was brought up was the transmission. The car still had the stock Doug Nash 4+3, what had lasted for about 90,000 miles, and endured much more torture than it was designed for. I made some phone calls, and it was pretty unanimous that nobody thought it would survive 700 horses. I looked into Richmond 5 and 6 speeds, but could never find a gear ratio that I was happy with. 5th gear was always the 1:1 ratio, and that just wasn't going to work for drag racing. The basic ZF-6 speed is what it would have to be. I then discovered Exotic Muscle (www.exoticmuscle.com) had just the things I needed. EM rebuilds ZF's, and has access to parts - a problem that's been plaguing those with ZF problems.

While browsing their website, I took special note of all the suspension upgrades they had available. I soon started drooling all over my browser's screen. I've done a few SCCA runs, but wasn't very good. A few years ago, I autocrossed my '87 with 383 and was handily beaten by a stock '84 crossfire Vette. To really finish my driving prowess off, I had one of the SCCA dudes take me for a ride in my own car around the track. He took 10 seconds off my time and placed the car within 2 seconds of the "grand prix" style cars running that day, easily beating any other street machine I saw. It was "his first time driving a Vette, not bad" he said. I knew I had more to learn. In December 1998, I had the good fortune of attending Bragg-Smith's Advanced Driving School. It was there that I caught a clue how to really drive my car. I was pretty good at drag racing, I could turn in a half dozen runs all within 0.05 sec of each other, but running a course is different! Incidentally, in September 1999, I went to one of those go-kart tracks where the people are really serious. Adults only, bring your nomex suit, helmet, and gloves type of place. These carts, I'm guessing, could easily hit 50-60mph in short order. Well, thanks to Bragg-Smith, I placed first in my heat of 11 cars, 7 of them regular members at the establishment. I'm looking forward to the next class Rupert Bragg-Smith has to offer! Back to the story, Rich and I decided to really go all out for the suspension upgrade too. We're talking coil over shocks, large sway bars, helm jointed links, new steering rack...the works.

At this point, it became apparent that a nearly complete teardown of things was going to get underway. It never became a complete body-off job, but only a couple of shakes away from it. Now things start getting interesting. The scope of the project has finally been decided on, and it's time to get down to business.

September 99: Teardown begins. Rich starts by taking much of the interior and fenderwell panels off to get a handle on where the frame attachment points can be made for the rollbar. As soon as the main hoop is bent we confirm that the rear deck will need to be modified to allow for the rear braces of the rollbar. The door panels will also need to be cut to make room for the side bars. The door sills are cut and plates welded into place to mount the side bars. The rear braces and other supports are fabricated, plates are welded to the frame just behind both the passenger and driver seat area. "X" members are added near the trans tunnel for additional support. The bar is then sanded and prepped for painting. The modified rear deck is mounted and checked for clearance. It looks great!.




December 99: Rich removes the hood, and starts the long task of cleaning the car and removing old parts. After a little prepping, he mounts the car up in a rather unusual trip to the car wash and spends $10 in quarters power washing. As you can see in the "post wash" pictures, things are starting to clean up nicely.

It's about this time, Rich suggests we pull all those nice aluminum control arms off and send them out to be polished. I agree, not really knowing how it'll look. As many more parts come out of the car, things really start to shape up with the help of a few gallons of degreaser. Everything is fully cleaned and repainted a nice semi-gloss black. Fitting for the new parts begins. Rich decides to shave a few pounds off the car by removing unneeded material from the front control arms. This used to be the place where the front transverse leaf spring mounted.


The leaf spring mounts in the rear of the car are also removed from the differential housing and hub mounts.

We sent out all of the helm jointed links to be powder coated. In the right picture you can see the new (left) .vs. the old.



On December 30th, Myron from TPIS reports back on the first dyno run. He's built a 9:1 compression 410ci. small block. It pulled 512.2 horses at 5750 and 478.9lb-ft at 5250. As shown on the sheet, this was run done completely UNTUNED and sans supercharger. I start to see the making of the monster take shape.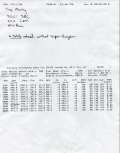 I ship all engine accessories back for mounting to the engine with the supercharger. Myron's still waiting for the supercharger from ATI. The engine will be dyno'd and tuned with not only the water pump and alternator, but the air conditioning compressor and power steering pump in place.

January 2000:

The engine mounts are gusseted to handle increased torque. The original 383 TPIS header had a little accident awhile back, and got repaired. We start waiting for parts to arrive back from powder coating and polishing. January 16, I get another fax from Myron. Preliminary tuning is done with the supercharger bolted on. An incredible 681.0 hp at 6000 and 628.2lb-ft at 5500. Holy smokes!--480lb-ft at 2750 rpm. This is some serious roasting power. The engine also has the characteristic, incredibly flat torque curve that Myron puts into his cams. Myron feels that injector size is still limiting the engine a bit and will see what that brings.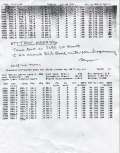 The polished and powder coated parts begin arriving back. Check out that front suspension assembly! Not bad for rear hub mounts either.



February 2000: The finished transmission arrives from Exotic Muscle. A Griffin HP-MAX series radiator is ordered to handle the cooling requirements of the new engine. These are custom order only. The regular HP series is only good up to 600hp.

February 1 - The final number is in on the engine. Although I haven't gotten the final dyno sheet yet, Myron had success with the larger injectors. 698.8hp! Well within the desired 650-700 range. SEE 05/23/2000 UPDATE BELOW. The engine ships out 02/07/00 after final detailing is done. The supercharger was shipped slightly earlier and should be arriving any day. I received my laptop back from TPIS, which they had loaded with the Motec engine management software. After spending a few hours looking at the program and settings, I'm really impressed with the control one has over the engine with this system. The wiring harness it a little intimidating, but we'll cross that bridge soon enough.

February 14 - The Engine arrived! Hope to have pics up soon. Here's the final dyno sheet and graphs Update: Not the final run...See May 23rd update:

February 28 -
Here it is, without supercharger:


Here's a short list of components used:
Chevrolet Bowtie 400 Block
Callies Crank
Manley Rods
Ross Pistons
Comp Rockers (1.5:1)
TPIS MiniRAM II
TPIS/AFR Heads
TPIS ZZ-X Cam
Fluidampr
Canton 7Qt. Oil Pan
MSD 6AL and TPIS Heavy Duty Coil
Motec M48 Engine Management System


Suspension assembly is nearly complete. First, here's the unpolished .vs. polished half-shaft, followed by fitting and assembling the front suspension components. The front shock mount must be modified for the spring to clear. Then the new Urethane bushings are put into place, and the whole assembly mounted.



The old fuel pump is pulled out and a new oversized Bosch put into place. We will use 1/2" steel braided and solid tube as the feed line and the old 3/8" feed line as the return line. Nominal fuel pressure is 63psi. Dropping fuel pressure below 60psi for any length of time could prove disastrous to a fuel hungry engine like this! Also, the Urethane bushings are inserted into the rear differential mounts. The driver's seat bracket is also getting finished up (don't worry, the seat DOES have pads). This is a bolt-in seat so the stock one can be used as well.


The clutch for the ZF-6speed is also an issue right now. We had a new Centerforce on order, similar to the one used for the 4+3. As it turns out, things are a little bit backward on the ZF, so we called Centerforce to get a part number that would work on the ZF. They said, 'whoa, we don't design clutches for more than 500 horse, look elsewhere.' Off to the drawing board once again. After many phone calls, we ended up back at TPIS, where they suggested using a Ram Clutch disk with the stock GM pressure plate. They said the stock pressure plate provides all the pressure we'd need, and the improved disk should provide the grip needed. Our flywheel is adequate, as TPIS provided a really cool aluminum fly wheel with a ceramic disk as its contact patch. TPIS has used this setup in racing and it works well. However, this car will also be drag raced on a regular basis, so we're concerned about the longevity of it. Between the disk, pressure plate, and fly wheel, there's almost $1000 wrapped up in this assembly. With still more checking, we've discovered McLeod Industries does a complete assembly, including aluminum flywheel for about $1250 that is built to withstand 1100hp. So, in the end, we ordered the McLeod system. It's their "street" version, so I can take the family to get groceries too! McLeod warned us, as we've heard before, that the ZF is going to be one noisy transmission. But, I expect plenty of exhaust noise to cover that up.

March 17 -
It's been awhile since an update. I don't have any new pics developed yet, either. But, here's what going on right now:
- The oil cooler arrived from TPIS. It's a very heavy duty, super cool (pun intended) looking unit.
- The McLeod Clutch and flywheel arrived. Wrong style flywheel. It was made for the newer, smaller diameter crank shaft. The new engine has the larger, super duty sized crank. New one on the way. But, wow, it's tough looking! Too bad people can't see such a fine piece of equipment.
- Rich has had the engine installed in the car twice so far for fitment. He also assembled the whole thing, including intercooler on the floor of his shop to get an idea how things go together. Currently, the engine is installed in the car with the supercharger and intercooler, Griffin HPMax radiator and A.C. condenser. Neither of us were at all excited about the ATI's routing to/from the intercooler. The piping was routed under the frame of the car and hung down too low. Very easy to break if I bottomed out, and I don't want to rupture it and suck junk into the engine. So Rich has made a whole new radiator/condenser/intercooler mounting and designed an aluminum box for air intake that solves all of the air routing problems. It will also require a little different front air dam, but that is minor compared to the nightmarish air plumbing from ATI.
- Rich has also started work on the exhaust system. The mufflers will be 3" Borlas with chromed dual exhaust tips welded on.
- We went through the whole wiring harness and have reached the conclusion that we don't need the stock GM computer at all. We confirmed this with Myron of TPIS. The new motec is just too cool!
- Also received a new MSD 6AL and TPIS heavy duty Coil.
- Rich has checked with the Idaho Emissions Control Board to make sure this thing will be emission legal. It sounds like we should have no problems as long as the tail pipe sniffers are happy and we have a working air injection system. We are going to plumb the air injection into the catalytic converter directly, so as not to disturb the Oxygen sensor's readings. We will be using an electric air pump from a '98 Camero with vacuum actuated bypass PCV valves. This is a good build it and forget it solution that doesn't rob any power from the engine directly and complicate an already complicated serpentine belt system.
- It seems the car will still look completely stock from the exterior, except for a front air dam change and the exhaust tips. Of course, the rollbar will be visible when I drive to work with the top down. Uhhhh, it may sound a little different too. :)


April 5 -
Lots of pictures to show. First, Rich masterfully works the wire harness. Also, we've added fuel pressure and boost pressure gauges to the left of the instrument cluster. Rich used an isolator filled with antifreeze in the engine bay so we don't have fuel entering the interior of the car:



As mentioned earlier, we didn't like ATI's routing, so Rich designed all new air plumbing. He started by clearing the nose of the car, then building new mounts for the intercooler, radiator, and A/C condenser. After mounting these, (less the condenser), he built a mini-dam for the intercooler, and mocked up the aluminum box for air intake with cardboard. I don't yet have pictures of the final product, but it turned out very nice!



Here are some pictures of the rear suspension. The first is the passenger side from the outside, the last is on the driver side from rear center:



More Engine pics. Here's the rear of the engine, and the Tilton mini-starter:



Here's some early pictures of the engine in place. The supercharger touched the suspension, so Rich had to raise the engine just a touch to allow space:


Currently, the engine is in for the final time. The fender wells are reinstalled. Many of the components such as vaccuum canister and fuel vapor canister are back in place. Things are really starting to take shape. We may even fire this thing up around the 20th of April!

April 27 -
It runs! We actually started it on April 19th, with catalytic converter on, but no mufflers. It ran down the street under its own power on April 24th for the first time. We haven't driven it hard yet, as there are many adjustments to be made to the suspension, as well as the motec tuning tables. Other last minute details are being worked on right now, and I hope to have more pictures up soon. The car has a nice supercharger whine and throaty, lopey sound. Check back soon for more details.

April 30 -
Here's the oil cooler unit and routing. It's placed just behind the radiator, down low.



Next, the clutch assembly, from flywheel to bellhousing. This is a dual disc McLeod unit.



Finally, the resulting supercharger ducting and radiator air box. Just in front of the air box you can see the supercharger's intercooler.




May 18 -
No good pictures to post. The car is essentially completed. We've had it out driving for a bit getting used to it. We took it to a chasis dyno and tuned it...made about 520hp at the rear wheels, which equates to about 620 at the crank. "Wait a minute!", you say, what happened to 700? Well, the 620 was done with only 4.5lbs of supercharger boost instead of 8lbs. We are working on a couple of issues to get back to 8lbs boost. Mainly, the belt is slipping around the supercharger pulley. We have a couple of options to eliminate this slip. We are going to try Belt VHT and a new tensioner. Another option is to run a gimler belt from the crank pulley to the supercharger, but this will take some machine work. A final option is to replace the P600 supercharger with the new D1 model, which should eliminate the problem altogether, but will cost some $$$. The first option is the cheap way out, so we'll try that first.

Other happenings:
We had to drop the oil pan and machine the main cap down a bit to install a dipstick. Since this car will be driven on the street, I'd like to know what the oil level is. This is something that should have been done by TPIS, but was overlooked. Often times, race engines don't have dipsticks. But, this does give the opportunity to get some pictures of the engine's bottom end. Will post them when developed. The thing is a work of art, to say the least!

So, what's it like to drive this beast so far? Calmly accel in 1st and 2nd gears...don't want to ruin a brand new set of tires, now. Hit third gear and bury the throttle in 3rd at 45 mph. Whap Whap Whap Whap....what's that? oh, the rev limiter...better shift, and by the way, we're now doing about 100 in what feels like less than 3 seconds later. Shift to 4th, and only 1 or 2 seconds later we're at 120mph. I haven't gone past that yet. This is going to take time to get used to! Still have 5th and 6th gears to go.
We're getting ready to leave for Bragg-Smith Advanced Driving School. We hope to have supercharger belt slip problem resolved for even more power by then.

May 23 -
Well, option 1 was undertaken on the belt slip problem: VHT and new belt tensioner. We got absolutely no increase in boost, and are starting to think that belt slip is not the problem. So what is different from the dyno run (more news here in a second!)? Myron ran on the dyno with no air cleaner and headers only. We are going to try a quick test to see if this is making the difference. Rich and I are determined to see the 8lbs of boost one way or another!

On a brighter note, we did get fuel curves tuned in a bit better today, especially on deceleration, making the thing a bit more tame. Also, a friend discovered on the TPIS web site a dyno run for an engine curiously identical to mine. I called Myron on it, and sure enough it's my engine. Here's the kicker: 732 HP and 656 lb-ft! Let's call it "the lost dyno run". This run was also done with all accessories in place like the other runs.

Here's the latest run:




And finally, some good pictures of the installed engine:



May 28 -
The Bragg-Smith Driving School trip has finally arrived. Rich and I started to leave yesterday. We took the car out for a quick spin and final tune session. Rich at the wheel while I was manning the laptop. After half an hour or so, the car was running to sweet perfection. Rich grabbed 4 gears on two pretty hard runs and, what's that howling? The rear end was done for the day. We pulled it out and discovered the shop that had done the work did not do a good job. The ring and pinion gears had chewed themselves up. Rich, Mister "never give up", got on the phone and in a half hour or so came up with a donor car. It only had the stock 3.07 gear instead of the 3.73, but anything would work at this point. Any idea how hard it is to find parts, let alone who has them on a Memorial Day Weekend? After waiting for a few hours, we arrive at the donor car. Wow, a 1985 4+3 car that had rolled/gone endoverend, who knows what. We proceed to remove the rear end and as we are almost done, discovered the lattice bracing of the differential cover is broken. After we get it out, Rich finds a good friend who at 11:30pm comes to our aid and welds on this thing for over 2 hours and completes repairs. By 3:30am, we are only 20 minutes from being on the road again, and discover our yolk doesn't match up with this one, so we have to go back to the parts car and get the straps and bolts so we can mount it. We sleep from 4am to 8am, and are about ready to go fetch our last few parts. I have only a few minutes here before we're off. Have a good weekend!

June 5 -
The trip to Las Vegas/Bragg-Smith Advanced Driving School was lots of fun and quite eventful. On the trip down, the car achieved 24.3 miles per gallon at 90mph with the top down, and that includes several bursts well over 100mph, and even a shot to 140. It got somewhat less (22.5mpg) at 70mph, as I have to stay in 5th gear at those speeds. I suspect with the 3.73 gears, the car should do better at 70-75mph and with tame driving get better than 25mpg.

Las Vegas was quite warm, with temps in the 105-107 degree range. That made for the car running hot, about 230 through traffic. First day on the track was quite revealing. We put Hoosier road race DOT tires on and I made a couple of laps on the 2.2 mile 10-turn track at speed in 107 degree weather and came in with a list of needed adjustments: Ride height, camber, brake fade, power steering overheating/bypass, and engine overheating. We opened the front air dam, and that helped with cooling. A power steering cooler fixed it's problem. We changed from the street compound brake pads to semi-metallic to fix brake fade, and lowered the car and put in 1.5-2 degrees of camber. The car still got hot, so we drained the radiator and went to straight water and Water Wetter from Redline and were then able to run laps indefinitely without overheating. After everything was set up and fixed, the car was simply amazing to drive, holding the corners very well and accelerating out of turns like mad even with the 3.07 gears, making the Driving School C5's seem as if they moved in slow motion. BTW: 3.07 gear results in a 1st gear ratio of 8.23, where 10-10.5 is optimal and 3.73 yielding 10.0. 2nd gear with 3.07's tops out at 100mph, 3rd gear at 135mph. So, as you can see, 3.07 is a really bad gear choice and I can't wait for the 3.73's back! Another needed change is to swap over to a road race fuel cell, as ANYTHING below 1/2 a tank of gas the car looses fuel pressure during hard corners and accelerating.

Now for the bad news: After everything was running great, the Supercharger took a dive, with the bearings going out. It chewed up the impeller and housing. After all this, we had to trailer the car back. Time for some warranty work from ATI, and while we're at it we'll get the D1 model.

My feeling on the whole trip is very positive, as we got a great opportunity to give the car a shake-down like it would never see during street use, or even drag racing or small autocrosses. A road course is very demanding on a car compared to any other driving I've done and, save the supercharger, the car held up well after getting it dialed in.

July 19 -
Finally, the D1 is installed and everything back in working order. We've placed a second fuel pump by the intake manifold fuel rail, and boosted fuel pressure at high rpm. Previously, pressure was dropping to 40psi above 6000 rpm. It now only drops to 50psi. This allows for better tuning ability with the motec. I'm not sure how we can get to 60psi at this point.

The car has been chassis dyno'd again. A peak of 588.5hp at the wheels has been achieved, which equates to right at 700 at the crank. This is through the intake air cleaner and mufflers. The belt is still slipping around the supercharger's pulley, as there was quite a bit of belt dust on the front of the engine after the dyno session. I'm now going to look into a cog drive setup to prevent this. Even with the slip, 8.5-9lbs boost was attained. The car is ready to go for Vette Fest 2000 (see link below)! Hope to see you there!

October 1 -
I finally got a chance to take the car out to the drag races. Many things, including work, kept me from seeing what the car's got, but here's the story:

First pass, 12.5. The car felt like it wasn't pulling at all. Rich and I couldn't find any problems. 2nd pass, 12.5, but I noticed as I was going through the traps that my supercharger boost pressure was zero, so the poor engine not only had no boost, was also was down about 100hp due to supercharger parasitic load. Went back to the pits and found the Intercooler's inlet from the supercharger was unhooked. On the third and final run, and probably up 300hp from the first two runs, I exploded both outboard ujoints upon launch. A takeapart of things shows both ujoints failed right at the "x" mid-section. These were super-duty greaseless 1350 bad-to-the-bone joints too. We called Mark Williams corporation and he said they are custom made by Spicer for M.W. and equal to a 1410 in strength. Not sure where to go from here. The good news is, the tires are hooking well, and since I blew both sides, I'm applying equal traction to both sides. Also, the announcer said he'd never seen so much shrapnel on the track. It ground off the yolks of both of the new metal matrix half shafts, so they are trash too.

So, I still don't know what the car will do, but if we can figure out how to hold the power, it's gonna be a fast one!


Sources:
Kimble Motorsports: 208-323-9950
T.P.I.S.
Exotic Muscle
Motec
The Dyno-Source: 208-672-8800 (the ONLY way to tune a car!)

Questions or comments? Email here



---